Things to Do in Amsterdam in June 2015

There are so many exciting things to do in Amsterdam in June 2015! The weather is nice, the flowers are still beautiful and the Dutch people don't have their vacations yet, so the city will not be too crowded.
You can take a romantic Canal Cruise boat tour or explore the city with one of the Amsterdam bike tours. There are many interesting events and concerts that take place in Amsterdam in June.
For those who prefer quieter country life - you can take a country side bike tour to see the Dutch windmills, lush landscapes and fantastic little Dutch villages, right outside Amsterdam. Enjoy!

Visit the Country Side - Around Amsterdam Bike Tours

With the opening of the summer season, it's so easy to grab a bike, pretend you're Dutch and use your leg power to see more of Netherlands! On your way, learn about the history and folklore of the area with an experienced guide.


The country side of Amsterdam is really within  a reach of a bike trip and will amaze you with a really beautiful change in scenery.

The best way to follow the scenic paths and visit picturesque villages is to take one of the day Countryside Bike Tours. You will surely love this!
---
Amsterdam Canal Cruises and Boat trips

Day or night, canal cruises are one of the most popular attractions in Amsterdam. These boat tours may include luxurious dinners and are just perfect for a romantic getaway!
Enjoy the historical surroundings of Amsterdam, watch bright red lights reflected in water and be amazed by the beauty of numerous bridges that you pass on your way!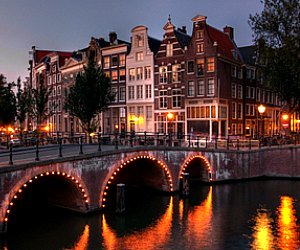 Visit the Vondelpark

The Vondelpark is the biggest park in Amsterdam. In summer, it is a great place to relax and see people play sports, picnic and play with their children. Dutch people are friendly and nice, so it may be a good chance to ask locals about Amsterdam!


The Vondelpark is also the popular place to see open air performances and festivals.
Holland Festival

With its unique performances and alternative art shows, The Holland Festival is a famous annual event that takes place in June in Amsterdam.

It's an international festival for theatre, music, opera, film and dance. The Holland Festival features several performances throughout the city with are well worth a visit.

The Holland Festival runs from May 30th till June 23rd, 2015.

Visit the official website here: Holland Festival



Art hiking tour - Night Watch Walks - rembrandt of Amsterdam

Art lovers will definitely appreciate this very special hike though Amsterdam to follow the origin of the famous Painting: The Night Watch from Rembrandt.


Your guide will be the famous Dutch writer Jacques Hendrikx. He will take you on this interesting historical walk through the old Amsterdam.

If you'd like to learn more about life and work of Rembrandt, book another tour: Rembrandt's Final Years.
We hope you enjoyed our selection of things to do in Amsterdam June 2015. The events pages are going to be continued as the year goes on. We will keep you updated and show you the best concerts, tours, exhibits and events. To make sure you don't miss our updates, you can follow Amsterdam-2-Go by clicking on one of our social media buttons!