Amsterdam

>
Tours
> Cruises
Amsterdam Canal Cruises - Boat Tours

Amsterdam Canal cruises are among the most famous attractions of the city. The city is known for its beautiful canals and bridges that are scattered throughout the city.


The belt of canals in Amsterdam consists of 165 canals that are in total 47 miles long, almost 1500 bridges. That's an impressive amount of water in the city! Built in the 17th century, the canals were intended for transport, water management and defense. The three main canals are the Herengracht, Prinsengracht and the Keizersgracht. They form concentric circles around the old center of the city. Since 2010, these canals are on the Unesco World Heritage List. Known as the Venice of North, one of the most popular things to do in Amsterdam is to enjoy the city's many canals and explore its architecture and famous landmarks. Read reviews and get your tickets for Amsterdam canal cruises that will provide you the opportunity to do both!
Prices for canal cruises vary from €15 to €75 (approximately $20-103), depending on the package.
I Amsterdam City Card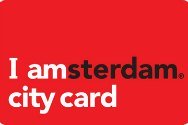 This highly popular city card offers huge savings on the city's attractions. The best bargain for tourists, this card also includes 1 Amsterdam canal cruise for free!
---
Amsterdam Canal Candlelight Cruise
Price: €35,00; Duration: 2 hours. This tour is available year round.
This is the most popular night time canal tour where you will be able to cruise through the Amsterdam's canals while taking in the view of the beautifully lit city. It is a particularly popular option for couples because of the romantic setting it offers.
Guests are seated in a cozy, luxurious boat amidst candlelight where they are served unlimited free wine, soft drinks, nuts, snacks and local cheeses.
Although dinner isn't served on board, the cruise more than makes up for it by offering a good selection of fine wines and through its romantic ambiance. The duration of the cruise is approximately 2 hours.
---
Amsterdam Canal Dinner Cruise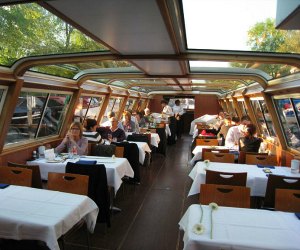 Price: € 75,00; Duration: 2 hours 30 minutes. This tour is available year round.
This two and half hours long Amsterdam canal dinner cruise will take you on a comfortable boat tour through the city where you can view the beautiful architecture of the city from the comfort of the boat.
Along the way you'll be able to see some of the popular attractions of the city like the Anne Frank House.
However, what makes this cruise special is the fact that all guests are served a four course dinner that is cooked right on the boat. Dinner includes amuse bouche, a starter, main course and dessert. Guests are also served coffee and tea. This Amsterdam canal cruise also caters to special requests like vegetarian meals.
---
Amsterdam Sightseeing Cruise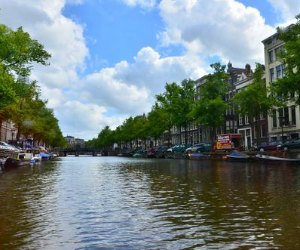 Price: €15,00; Duration: 1 hour. This is the cheapest Amsterdam canals cruise, available all year.
This particular Amsterdam canal cruise focuses on sightseeing so it is ideal for those who want to explore the major sights of Amsterdam in a relatively comfortable way and in a short period of time.
Based on your preferences, you can customize the itinerary and decide which sights are to be included in the cruise. The basic cruise is one hour long and will include attractions like the Skinny Bridge, Anne Frank House, Golden Blend and several other destinations.
Commentary on all attractions is pre-recorded. The sightseeing cruise departs several times during the day so you will have several flexible options for departure.
---
Amsterdam Pizza Cruise
Price: €35,00; Duration: 1 hour 30 minutes. This tour is available during all season, including winter.
Pizza Cruise and Heineken experience - price €49,00
If you are travelling to Amsterdam with kids, this cruise is a great option. The cruise lasts for 90 minutes and is scheduled for evening.
Guests sail through the beautiful canals of the city, enjoy the view of the gabled houses and have several great photo opportunities from the comfort of the boat. On board guests are served unlimited soft drinks, wine and beer.
Crew members also serve guests an appetizer, a pizza and ice cream (Ben and Jerry's) for dessert. There are 6 pizza options for guests to select from. The Amsterdam canal cruise provides a very relaxed and casual atmosphere for guests.
As an option, you can add the much raved about Heineken Experience to your this Amsterdam canal cruise and enjoy two of the city's famous attractions in one day at a discount price. Heineken Experience is an interactive activity where you can learn about the history of Heineken while sipping the drink from a glass!
---
AmsterdamHop-On Hop-Off Canal Cruise
Price: € 22,00 ; Duration: 24 hours and 48 hours. The canal bus operates year round.
Like public transit in most major cities around the world, this is a day bus pass that will allow you to travel through the canal as many times as you like for 24 or 48 hours. This Amsterdam canal cruise has 19 stops on four different routes.
Most of these stops are located close to attractions that tourists are most likely to visit. It is a good option for those who want to get around the city in an affordable, easy and comfortable way. The canal bus includes recorded commentary.
You'll also receive various discounts or the city's attractions and restaurants.
---
Red Light District Walking Tour and Cruise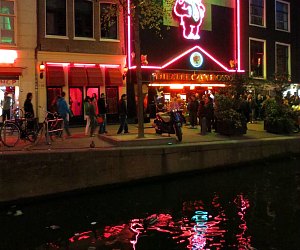 Price: €35,00; Duration: 2 hours. This tour is available all year.
One of the major attractions in Amsterdam is its Red Light District. This particular evening Amsterdam canal cruise will provide you a great way to explore this district in two ways.
During the cruise, you will be able to view the view the architecture of the district and its eclectic lighting from the comfort of the boat. The walking tour is also a great way to get a closer look at the architecture of the area along with its many adult attractions. The walking tour will last for 20 minutes.
On board, guests are served orange juice, white and red wine as well as nuts and a selection of Dutch cheeses.
---
Cocktail Cruise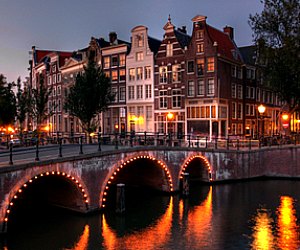 Price: € 35,00; Duration: 2 hours. This cruise is available all year.
One of the best times to experience Amsterdam is when it's all lit up for the night.
One of the best ways to do it is on an Amsterdam canal cruise with your favorite cocktail in hand. This popular tour offers just that - a relaxing atmosphere, mood-setting music, cocktails and snacks. Friendly hosts/tour guides who will unobtrusively highlight the city's landmarks as you enjoy your drink in a relaxing atmosphere.
This canal cruise is perfect for lovers and bachelorette parties!
---
Dinner Cruise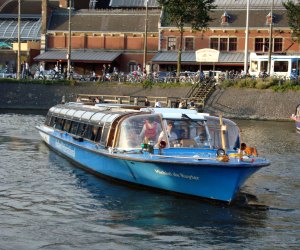 Price: €67,50; Duration: 2 hours 30 minutes. This cruise is available all year.
This is another option for those who want to explore the canals of Amsterdam while enjoying a great dinner.
Lasting two and a half hours, this Amsterdam canal dinner cruise takes guests through the famous canals of Amsterdam and close to the architectural landmarks and attractions of the city. A guide is present on each cruise and will provide commentary on the attractions for guests that want to learn more about the city.
On board, a three course dinner is served along with the option of soft drinks, beer and wine. Vegetarian option is also available. This Amsterdam canal cruise also includes entry to the Holland Casino.
---
Amsterdam Canal Cruise with Xtracold Icebar
Price: €27,00; Duration: This cruise operates all year.
This Amsterdam canal cruise is an affordable option for those interested in visiting the Xtracold Icebar.
The hour long cruise will include a cruise through Amsterdam where you'll be able to see several attractions, entrance into the Xtracold Icebar and two drinks at the bar. You can choose from soft drinks, Heineken beer or Smirnoff cocktail.
Xtracold Icebar is quite popular in Amsterdam because everything inside the bar is made from ice. The 3Dride offered inside the bar is also quite enjoyable and a good value since it is included in the cruise package. Some of the attractions that you'll pass by during the cruise include the Anne Frank House and Golden Bend.