the Best amsterdam Hostels in 2023

These hostels in Amsterdam are fun, spunky, and cater to the young and bold crowd. Here you will find a list of most popular and best valued Amsterdam hostels, based on their reviews and ratings.  All of them are quite affordable, clean and comfortable, with caring and friendly staff. Many of these hostels are centrally located close to the most popular Amsterdam attractions, the Red Light District, Leidseplein - just where YOU want to be on your vacation! Read the reviews, check out the location of these Amsterdam hostels on the map, and book through our reliable partners: Booking.com and Hostelworld.com, as well as TripAdvisor. Enjoy Amsterdam and have fun!
---
BUNK HOTEL AMSTERDAM
Bunk Hotel Amsterdam review: BUNK Hotel Amsterdam is a unique accommodation option that combines the luxury of a hotel with the affordability of a hostel. The hostel is located in two monumental churches that have been converted into meeting places for travelers, locals, and artists. The hostel hosts inclusive social events in its sustainable restaurant and other communal spaces, making it a great place to meet new people. Guests have the option to stay in affordable private pods or luxury rooms. One of the highlights of the hostel is the restaurant, the hostel also has a library and different areas to chill or explore, which adds to the unique experience of staying in an amazing building. The hostel is located a bit far from the city center, so guests need to get a bike or take the metro, which is a 5-minute walk away, to get around. However, the hostel is only a 10-15 minute walk to the ferry, which runs every 5 minutes, making it convenient for visiting the Eye Film Museum and A'DAM Lookout. The location also makes it an ideal place to stay for those traveling via Eurostar or the airport. In summary, the BUNK Hotel Amsterdam is a unique and affordable accommodation option, with friendly staff, comfortable beds, and nice showers. However, guests should be aware that the rooms can feel claustrophobic and hot due to the lack of windows and air flow. Nonetheless, the inclusive social events, communal spaces, and beautiful building make it a worthwhile choice for travelers looking for a memorable experience.

---
St. Christopher's at Winston Hotel
St. Christopher's Amsterdam Hostel review: St. Christopher's at Winston Hostel is situated in the heart of the city, in close proximity to the Red Light District. The hostel boasts 60 uniquely designed rooms, each adorned by different local artists, predominantly reflecting provocative styles. The dormitories are geared towards a young crowd and offer shared facilities. While basic, the dorms are kept clean and tidy. A range of amenities are available to guests, including a complimentary continental breakfast, a pool table, free lockers, and WiFi access. St. Christopher's at Winston Hostel also features a private beer garden, providing an inviting space for relaxation. Additionally, the hostel embraces a smoke-friendly environment, offering an outdoor garden terrace and a designated smoking room with a vibrant social atmosphere. It's important to mention that the rooms are designated as non-smoking areas. In terms of additional offerings, St. Christopher's at Winston Hostel provides bicycle rental services, a bar/lounge, an on-site restaurant, and a nightclub, which sometimes may result in increased noise levels.
---
Stayokay Hostel Amsterdam Vondelpark
Stayokay Hostel Amsterdam Vondelpark review: One of the top 10 Amsterdam hostels, Stayokay Hostel Amsterdam is conveniently situated near Vondelpark, providing a tranquil setting while remaining in close proximity to central Amsterdam's bustling amenities and vibrant atmosphere. Stayokay Hostel Amsterdam Vondelpark prides itself on its cleanliness, central location, and commitment to guest safety. Various types of dormitory rooms are available, each equipped with its own private toilet and shower facilities. Complimentary WiFi is accessible in the public areas of the hostel. For an additional fee, guests have the option of utilizing luggage storage and lockers. Furthermore, a laundry facility is available, and complimentary bed linen is provided to all guests. Towels can be rented from the reception desk. Notably, Stayokay Hostel Amsterdam Vondelpark offers a generous and substantial breakfast buffet at no additional cost. To foster a sociable atmosphere, a bar is conveniently located on the premises, providing an ideal space for guests to engage and interact with one another.
---
Flying Pig Downtown amsterdam
Flying Pig Downtown hostel review: The Flying Pig Downtown Hostel enjoys a convenient location near the Red Light District, in close proximity to the Central Station. The dormitories within the hostel offer shared bathroom facilities, while also providing individual reading lights, lockers, and bed linen for each guest. The private rooms offer additional amenities such as a mini fridge, TV, and most of them feature en-suite bathrooms. The price of accommodation includes an array of complimentary services, such as city tours, guides, maps, WiFi access, bed linen, and breakfast. For guests who prefer to prepare their own meals, The Flying Pig Downtown Hostel offers a fully equipped kitchen. Furthermore, the premises feature both outdoor and indoor smoking areas, a patio, a pool table, and a comfortable lounging area with free movies and evening entertainment. The Flying Pig Downtown Hostel's  location is particularly advantageous for those seeking accommodation close to Centraal station, as it is only a brief five-minute walk away. In order to ensure the safety and security of guests, the building can only be accessed by scanning a key card, and the staff diligently monitors entry to ensure that only authorized guests are admitted. In addition, guests can enjoy the convenience of complimentary coffee in the mornings, while breakfast is available for a separate fee of 5 euros.
---
via amsterdam hostel
Via Amsterdam hostel review: In this hostel, you can find comfortable and entertaining stay in Amsterdam. The rooms are clean and well-equipped with lockers, night lights, and USB charging points. Guests can enjoy a variety of entertainment options, including a pool table, air hockey, pinball, giant Jenga, and a cinema that is particularly enjoyed by kids. In addition to its amenities, Via Amsterdam hostel also has a bar, paid private parking, bicycle rental, and baggage storage. This affordable Amsterdam hostel has a cozy and well-decorated environment, making it a pleasant place to relax and socialize. Although the breakfast is basic, it still does the job. Moreover, the hostel offers both non-smoking rooms and family rooms, catering to the needs of different types of travelers. Via Amsterdam hostel is conveniently located just 750m from the metro line, making it easy for guests to explore the city with a 24hrs hop on hop off ticket available for just 8 euro. All in all, Via Amsterdam hostel is a great option for those looking for a comfortable and entertaining stay in a convenient location.
---
generator amsterdam
Generator Amsterdam hostel review: This Amsterdam hostel is located a bit outside of the city center, but it is worth taking a tram ride to get there. The building used to be an old school, and it has many great rooms and areas to hang out, including an auditorium. The shared rooms have bunk-style beds with a privacy curtain and lockers underneath. Each room has its own toilet and shower. Generator Amsterdam hostel is situated next to a lovely park, and there is plenty of space for bicycle parking. Reception is open 24 hours a day, but transportation may be an issue if you're checking in or out very early or late as trams may not be running. The ground floor café/bar is a bit pricey, but it's convenient as you can get coffee, meals, and beer there throughout the day. Generator Amsterdam hostel has a range of amenities, including paid private parking on-site, a bar/lounge, game room, conference facilities, bicycle rental, high chairs available, meeting rooms, blackout curtains, air conditioning, bath/shower, soundproof rooms, bottled water, non-smoking rooms, suites, and family rooms. While Generator Amsterdam hostel may be a bit out of the way, its unique building, amenities, and nearby park make it a great choice for budget-conscious travelers looking for a comfortable stay outside the hustle and bustle of the city center.
---
Budget Hotel Tourist Inn
Budget Hotel Inn Amsterdam review: This is an affordable hotel-hostel situated in the heart of Amsterdam city, offering convenient proximity to all the major attractions. Budget Hotel Tourist Inn provides a range of amenities at no additional cost, including complimentary Wi-Fi access and a daily breakfast served in the welcoming lounge area. The dormitory rooms, while basic, are maintained to a high standard of cleanliness and are equipped with cable TV, telephone, and air conditioning. The showers are shared among guests. For those seeking more privacy, the private rooms offer additional comforts such as cable TV, telephone, and a private shower. Budget Hotel Tourist Inn features a spacious lounge area with televisions, where guests can relax and enjoy a variety of hot and cold beverages throughout the day. Luggage storage facilities are available free of charge, ensuring a hassle-free experience for all guests. Additionally, the hostel provides blankets, pillows, towels, and sheets at no extra cost. Whether you are traveling on a tight budget or exploring Amsterdam with a group of friends or family, Budget Hotel Tourist Inn offers a range of accommodation options to suit your needs. From 1 to 4-person private rooms to dormitories accommodating up to 6 people, the hostel ensures a comfortable stay for every guest.
---
flying pig uptown amsterdam
Flying Pig Uptown Amsterdam hostel review: The biggest plus is the price! Also, Flying Pig Uptown Hostel is located in the heart of the city close to numerous attractions. The dormitories offer essential amenities such as individual lockers, comfortable beds, and complimentary linens. Despite their simplicity, the dormitories are meticulously cleaned and well-maintained. For guests seeking more privacy, private rooms and twin rooms are also available. The private rooms are equipped with televisions, and many of them feature en-suite showers. Guests of The Flying Pig Uptown Hostel have access to a range of additional amenities, including complimentary WiFi, skate hire, a free breakfast, and the convenience of a fully equipped kitchen for self-catering. The hostel has a vibrant bar, creating a lively social atmosphere, while the basement lounge provides a cozy space for relaxation. There is also an indoor smoking area and facilities for book exchanges. It's important to note that The Flying Pig Uptown Hostel exclusively caters to adult guests. With over 20 rooms of various sizes, ranging from authentic dorm-style experiences to private boudoirs with en-suite bathrooms, The Flying Pig Uptown Hostel offers a diverse selection to suit different preferences. Supermarkets can be found in the vicinity of the hostel, and the on-site kitchen is fully stocked to facilitate the preparation and storage of delicious meals. Grab your backpack and come!
---
CityHub Amsterdam
Cityhub Amsterdam hostel review: CityHub is an exceptional hostel with a great value located in the bustling heart of the city, conveniently close to the museum district and right around the corner from Foodhallen. What sets CityHub apart is its innovative approach to accommodations, featuring unique sleeping units called Hubs. Each Hub is a private and compact space equipped with a comfortable king-sized double bed, mood lighting, complimentary WiFi, and convenient outlets for music enthusiasts. The hostel also provides inviting communal spaces where travelers can mingle and relax. These shared facilities include bathrooms, a cozy hangout area, and a generously stocked minibar offering a tempting selection of snacks and beverages. The friendly hosts at CityHub are always available to offer valuable travel tips and assistance. Moreover, guests can rest assured that the hostel, along with all its bathrooms, maintains impeccable cleanliness standards. Being one of the top 5 Amsterdam hostels, CityHub offers a truly distinctive experience, combining privacy, comfort, and connectivity for an unforgettable stay in the vibrant heart of the city.
---
Cocomama
Address: Westeinde 18, 1017 ZP
Cocomama Amsterdam hostel review: Located very close to the Heineken beer museum and Rijksmuseum, Cocomama is a boutique hostel and a hybrid between a hostel and a hotel. From 6 bedroom budget dorms to private double rooms, the hostel offers a good range of accommodation options. Each room has a clean, spacious ensuite, free access to WiFi, private lockers and comfortable beds. The hostel also has a movie corner and a fully equipped, social kitchen for guests to use. The private double rooms also include a tea and coffee maker and hairdryer. The staff is professional but friendly and the hostel has a very cozy, home-like atmosphere.
---
The Bulldog Hotel
Address: Oudezijds Voorburgwal 220, 1012 GJ
The Bulldog Hotel Amsterdam review: The Bulldog Hotel is the first ever hostel to receive a 5 star rating in the world. Located in the center of the city, the Bulldog Hotel is legalized and has a large lounge where smoking is allowed. The dorms include an en suite, towels, linen and lockers. Female dorms are also available. The private rooms include air conditioning, safe, television and an en suite. The luxury twin or double rooms offer a view of the canal and offer amenities like an LCD TV, Nintendo Wii, en suite and all other amenities available in the private rooms. The hostel also has a coffee shop with a very large menu.
---
AmicitiA
Address: Oosterdok, Amsterdam 1011 VX
AmicitiA Amsterdam hostel review: AmicitiA is a hostelboat. It is a former freight ship that is refurbished to provide accommodation facilities to up to 36 people. The cabins are quite compact, clean and very basic. They feature bunk beds, wash basin and central heating. There are ample communal showers and bathrooms that are shared by all the guests on board. The sundeck is quite spacious and is a good spot for enjoying the beautiful view of the waters and for lazing around. There is also a fully equipped, decent sized bar for entertainment. Other amenities provided to guests include free WiFi, free towels and free breakfast.
---
Durty Nelly's Inn
Address: Warmoesstraat 117, 1012 JA
Durty Nelly's Inn Amsterdam hostel review: Durty Nelly's Inn is located in Amsterdam's historical center, a short distance from the Central Station. The hostel provides very basic amenities that are standard in almost all hostels. The rooms are clean but slightly small and bathroom facilities are shared with other travelers. All shared dorms also include individual lockers with auto locks. Free WiFi and breakfast is available in the hostel. For a deposit, guests can also hire towels, adapters and hairdryers. The Irish Pub located below has a very social, laid-back vibe and is a good place to meet other travelers, enjoy drinks and food or just hangout.
---
The Student Hotel Amsterdam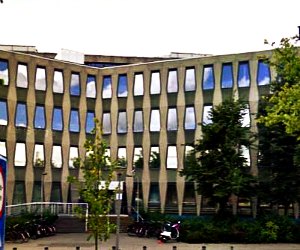 Address: Jan van Galenstraat 335, Amsterdam 1061 AZ
The Student Hotel Amsterdam review: The Student Hotel Amsterdam is located in West Amsterdam, about 15 minutes from the center of the city and located close to the tram. The rooms are quite basic but well maintained and very clean. All rooms come with an en-suite bathroom, double bed, flat screen television, WiFi, shared kitchen and a study desk. The private luxury rooms provide more privacy and include a private kitchen. The shared amenities on the property are quite impressive and include a summer terrace, basketball court, games room, lounges, library and a study room. Guests also receive a bike to use and free access to a private gym when they stay more than a month.
---
Stayokay Amsterdam Zeeburg
Address: Timorplein 21, Amsterdam 1094 CC
Stayokay Amsterdam Zeeburg hostel review: Stayokay Amsterdam Zeeburg hostel is located in a quiet neighborhood in eastern city center. The historic center of the city is located 15 minutes away by tram or bike. The hostel has its own restaurant-café that serves a good range of drinks and food items. There are a number of different types of dorm rooms and each has its own toilet and shower. Free WiFi is available only in the public areas. Luggage storage and lockers are available for an additional fee. There's also a laundry facility and free bed linen is provided to all guests. Towels can be rented at the reception.
---
The Greenhouse Effect
Address: Warmoesstraat 55, Amsterdam 1012 HW
The Greenhouse Effect Amsterdam hostel review: Located only a few steps from the Central Station, the Greenhouse Effect is close to all the amenities in the center of the city, right at the Red Light District. All the rooms in the hostel are private and not dorms. They include a TV, a mini bar and the bathrooms are shared. All bathrooms are very clean and spacious. There is a spacious, comfortable bar in the hostel with happy hours on beer throughout the day, a DJ and a very social vibe. Each room in the hostel is unique and different. The price includes breakfast with the usual spread. The Greenhouse Effect is a smoker-friendly hostel.
---
Amsterdam Hostel Uptown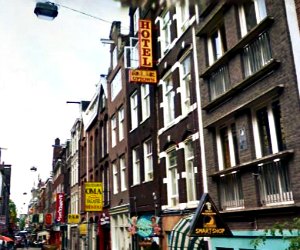 Address: Korte Leidsedwarsstraat 147, Amsterdam 1017 PZ
Amsterdam Hostel Uptown review: Amsterdam Hostel Uptown is located close to Leidseplein in the center of the city. The hostel offers clean, comfortable and basic amenities to travelers on a budget. Each dorm room has its own bathroom. The price includes free WiFi and internet access, free linen, free breakfast, city maps and a free walking tour. There's a common room for lounging and luggage storage facilities available. The café is quite relaxing and has a good variety available on its menu. It has a separate smoking room. Bike rental facilities are also available. However, the hostel is located on a main road and can therefore get a little noisy at night.
---
Cosmos Hostel
Address: Frans Van Mierisstraat 69 a,
Cosmos Hostel Amsterdam review: The Cosmos Hostel is located in the center of the city, a short walking distance from the Red Light District and Dam Square. All the dorm rooms in the hostel have a wash-basin, television and central heating. The rooms are very basic and without any frills. Each floor has a shared shower and toilet facilities. The common room is where guests can watch movies on the TV, use the internet, socialize and make calls. The price includes free linen, hot tea and coffee, free movies, city maps and free WiFi. Wake-up service and non-smoking rooms are also available on request.