Things to Do in Amsterdam
January 2023
Planning to visit Amsterdam in January 2023? It's a great way to begin the year in Amsterdam with its large New Year parties, multiple cultural events, ice skating and winter markets! On this page you will find the top things to do in Amsterdam in January 2023. 
Many tourists avoid visiting Amsterdam in winter due to its damp and cold weather, however, others prefer January because it is not the high season in Amsterdam, and it's not so crowded. Weather in January is usually chilly, rainy and can be quite cold with nearly freezing temperatures, so dress accordingly. The average temperature in Amsterdam in January is around 3 degrees Celsius (38 Fahrenheit). It's the coldest month of the year in Amsterdam! So if you are planning to visit Amsterdam in January 2023, try to dress in layers and keep yourself warm.
FEATURED AMSTERDAM TOURS IN january 2023
Amsterdam is one of the best places in Europe to start your new year! If you are looking for winter activities and events, Amsterdam is an extremely beautiful European city full of life, also in January. Even after the December holidays are over, and Christmas markets are wrapping up, there are so many interesting things to do in Amsterdam in January 2023! One of the biggest and the most interesting winter events of the year is Amsterdam Light Festival with its unique light artwork, located in and around Amsterdam canals. You can read about Amsterdam Light Festival below on this page, or in a separate article. 
Celebrated on the night of December 31st, New Year's Eve is a big holiday for the Dutch people. Most people on Amsterdam are celebrating New Year with big parties in their homes, restaurants or clubs, and the fun goes on for the whole night. When you visit Amsterdam on the New Year's Eve, you will definitely see a lot of people celebration on the streets and terraces. There will be lights and music all night in the center of Amsterdam on the city plazas. There will also be plenty of fireworks at night, so don't be surprised if you hear those loud sounds! So if you like to party and to start your new year with a grand celebration, come to Amsterdam!

TOP EVENTS AND ATTRACTIONS IN AMSTERDAM in january 2023
Amsterdam Light Festival 2022-2023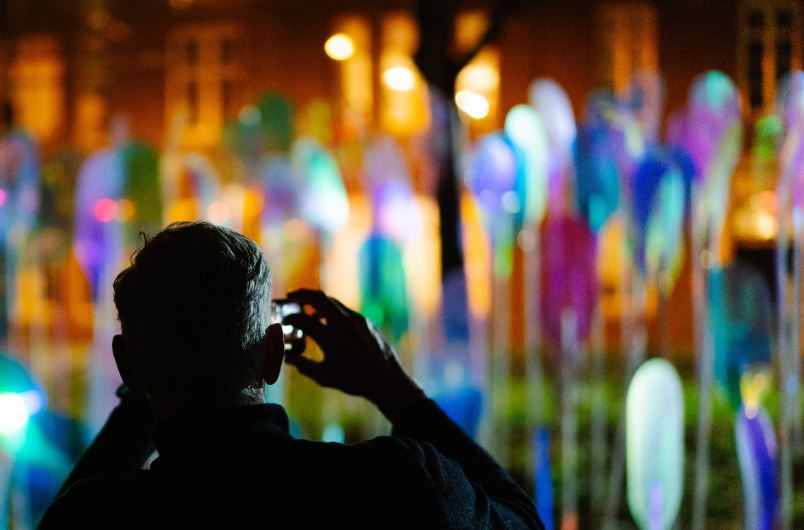 Image by @maikeljay
Amsterdam Light Festival 2022-2023 continues till January 22nd, 2023, so hurry to see it! This is the 11th Edition of the festival called "Imagine Beyond". Parts of Amsterdam along the canals are really beautifully illuminated with light sculptures and installations. You can do the tour by foot (it's over 6 km in the length) or take a boat tour to see all the illuminated buildings and bridges. Some boats are even especially decorated with lights to join the Light Festival!  
The lights are on every day from 5pm till 11pm, and the installations include 20 festive and bright artworks by various international artists such as Obba, Peter Wink etc. It's an unforgettable experience on your visit to Amsterdam!
Read more about Amsterdam Light Festival
---
ice skating in amsterdam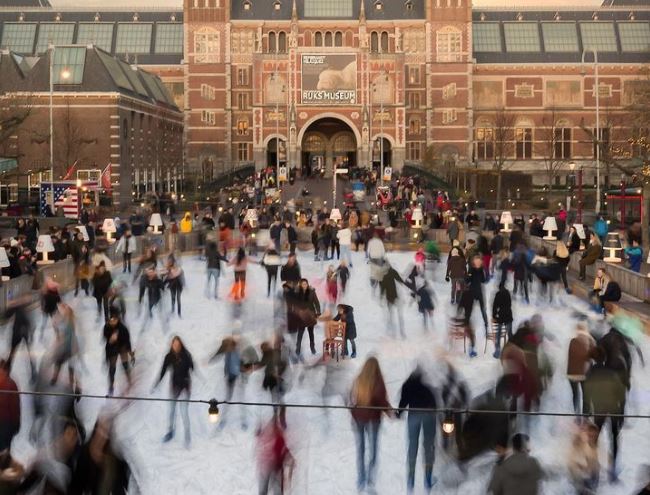 Image by @ewout.pahud
Love active sports or just want to warm up in those long January days? You can enjoy winter ice skating at one of the Amsterdam ice skating rinks in 2023! Here you can rent skates, get hot chocolate and eat the famous Dutch traditional "Oliebollen" - fried dough with apples and raisins with sugar. 
Rembrandtplein Ice Rink is open till 31 March 2023, every day 10:00 - 23:00 and it has some food kiosks around so you don't get hungry. 
Jaap Eden Ice Rink is a huge round outdoor ice rink that is going one direction, so skaters don't collide! It's located at Radioweg 64 in Amsterdam, and open October to March 2023. It's also a great option for those bad weather days because it has an indoor rink, as well as a beginners corner.
ICE*Amsterdam is a smaller yet cozy (also meaning crowded) ice rink at the Museumplein, and it's open mid November to February 5, 2023. Probably the best place to skate and to visit all the museums around it!
---
Klimt & Hundertwasser art exhibition at Fabrique des Lumières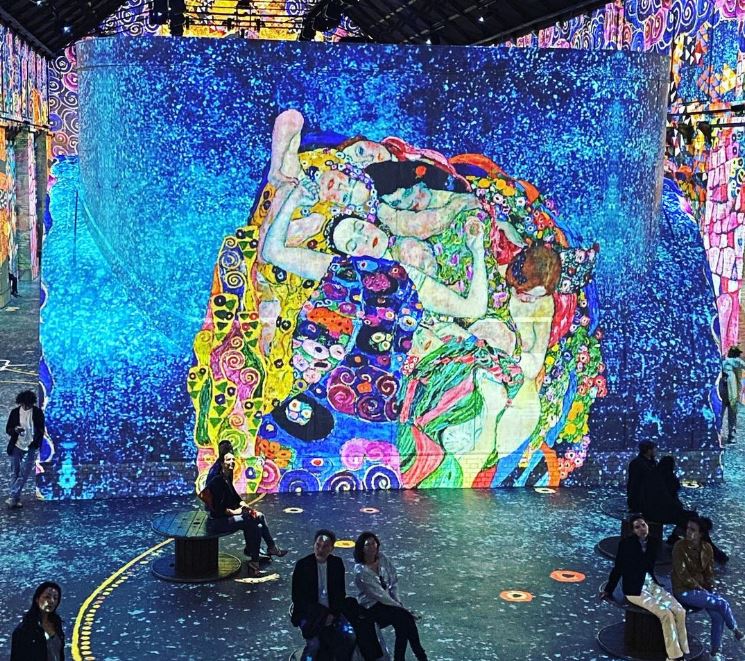 Image by @arita.ferreira
Fabrique De Lumieres is the largest digital art center in Netherlands, featuring impressive exhibitions by world famous artists, such as Gustav Klimt. The artworks are projected to walls that are up to 16 meters high, and provide a unique immersive experience that can't be compared to a regular visit to a museum. 
This year Fabrique De Lumieres presents Klimt & Hundertwasser Art Exhibition with all-known works by a famous Austrian artist Gustav Klimt. Klimt's artworks are so organically presented on the walls and architecture elements, that you feel like in a magic world. All combines in one - colors, movement, and even music that accompanies the exhibition. You can spend 1-2 hours at the exhibition, being completely captured by the atmosphere of this vivid art. Highly recommended to all Amsterdam visitors who appreciate classic art!
Get tickets to Klimt & Hundertwasser Art Exhibition
---
national tulip day 2023 in amsterdam 

Despite it's still winter, flower season is fast approaching! Every third Saturday of January, Tulip Day is celebrated in Amsterdam with giving away free tulips to everyone who want to get some fresh flowers!
This year it's on Saturday, January 21st, 2023 - mark the date! Location: Museumplein (of course you know where that is). And the theme of this year is "Typical Dutch".
This is the official beginning of tulip season, organized by Tulip Promotion Netherlands. After this day, tulips are going on sale everywhere in Netherlands - but on the National Tulip Day you can get them from the loving hands of Dutch farmers, right here at the Museumplein. There will be music, tulip party, friendly volunteers, and of course - beautiful flowers! 
Check out the date countdown and event rules following this link to the official website
---