Amsterdam

>
Nightlife
> Coffee Shops
Top 15 Amsterdam Coffee Shops

Amsterdam coffee shops attract millions of tourists every year - for some, the possibility to try legal cannabis is the main reason to visit the city! Below you will find a list of 15 best Amsterdam coffee shops with the coolest vibe, music and the best stuff on the menus.
Prices in Amsterdam coffee shops generally vary between 6 to 25 EUR per gram depending on which hash, weed or other stuff you order. At the Red Light District you will find some of the most expensive Amsterdam coffee shops, but the further you are from the center, the cheaper they get. Let's go!

how to choose best weed for beginners
How to make sure you get good weed in a coffee shop? When you're checking out weed at a coffee shop, follow your senses:
1. Look: Go for colorful buds with lots of trichomes (those shiny resin crystals).
2. Smell: Fresh and fragrant is a good sign. If it smells nice, you're on the right track.
3. Feel: Give it a gentle squeeze. It should feel just right, not too dry or too wet.
4. Check the Trichomes: Milky or amber trichomes are a good indicator of quality.
5. Taste: Try it out! It should have a rich flavor you enjoy.
6. Effect: Pay attention to how it makes you feel; that's what matters most.
7. Testing and Reputation: Look for lab-tested products and ask for recommendations.
Don't rush; take your time to find what works best for you. Enjoy the journey!
---
Amsterdam Coffee Shops Tours
If you are unsure which coffee shop to choose and also would like to know more about Amsterdam cannabis culture and history, we suggest one of the following Amsterdam coffee shop tours! The duration of the tours is 2-4 hours including smoke breaks, and their prices start from 12 EUR per person only - so why not?
---
420 Café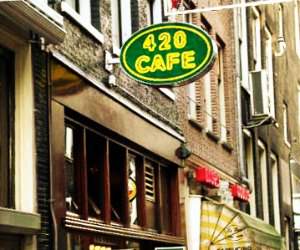 Address: Oudebrugsteeg 27, 1012 JN Amsterdam
420 Café Amsterdam Coffee Shop review: Located close to the Central station and Dam Square in the city center, the 420 Café offers a very relaxed atmosphere, soothing music, friendly staff and a good selection of weed compared to many other cafes in the city center. 420 Café stands out because of its atmosphere and the music selection it offers. Instead of playing techno, mainstream or pop, the music here is mainly jazz, reggae and rock. The volume is never too loud to make it difficult to hold a conversation. The service is quite friendly and the staff members are very knowledgeable and eager to help experienced smokers as well as newbies with their weed selection.
---
De Dampkring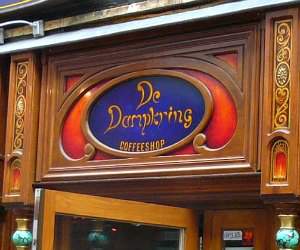 Address: Handboogstraat 29, 1012 XM Amsterdam
De Damkring Amsterdam Coffee Shop review: Regarded as one of the most popular and trendy establishments in Amsterdam, De Dampkring has been around for years. It is located a short walk from the Amsterdam Flower Market. Since the "Ocean's 12" movie was shot in the café, it has turned quite popular and therefore more crowded and touristy. Nevertheless, it is still known for good quality weed, extra strong chocolate fudge space cake, good vibe and great music. The staff is quite friendly when they're not too busy. Plus, De Dampkring offers some of the best milk shakes in town.
---
Greenhouse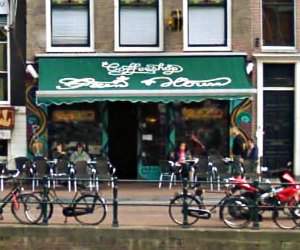 Address: Oudezijds Voorburgwal 191, 1012 EW Amsterdam
Greenhouse Amsterdam Coffee Shop review: Greenhouse is located next to the canal in the famous Red Light District. This upscale coffee shop is best known for its cannabis selection with items like hydro weed and bio organic on the menu. Frequented by high profile celebrities like Miley Cyrus, Eminem, Rihanna and Chris Brown, the café tends to be quite popular and is therefore packed most of the time. The hall of fame of celebrity visitors inside is quite impressive. Greenhouse has also been a Cannabis Cup Winner for several years. The bar inside has a decent menu and offers a good selection of drinks as well as food.
---
Basjoe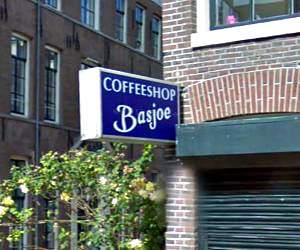 Address: Kloveniersburgwal 62, 1012 CX Amsterdam
Basjoe Amsterdam Coffee Shop review: Coffeeshop Basjoe offers a clean, comfortable and relaxing atmosphere along with a good selection of coffees, teas and an excellent cup of hot chocolate. Their weed menu is quite varied and includes some interesting items like Chocomoko and Rainbow Cake. The atmosphere is relaxing with a nice seating area outdoors with a beautiful view of the canal. The music played is mainly reggae. The staff at Coffeeshop Basjoe is quite attentive and is pretty good with providing information and advice to ensure guests make the right selections if they're new to smoking.
---
De Tweede Kamer
Address: Heisteeg 6, 1012 WC Amsterdam
De Tweede Kamer Amsterdam Coffee Shop review: De Tweede Kamer is very small in size with limited seating but is cozy, comforting and very laid back. The music inside is mostly reggae and old school rock played at a decent volume. Inside is a small TV that often shows football games. The café also has a good selection of smokes. They offer free papers for a joint, bongs and everythig you may need, and are willing to roll for guests for tips. The staff members are all friendly and chatty with tourists while being respectful and polite. Quite well-known and popular with locals, De Tweede Kamer Coffeeshop has several great goodies, good service and affordable prices.
---
Kadinsky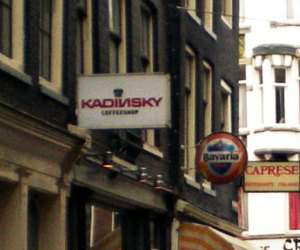 Address: Zoutsteeg 14, 1012 LX Amsterdam
Kadinsky Amsterdam Coffee Shop review: Kadinsky is located on the Dam Square in the Red Light District and is therefore on a more expensive side. The coffee shop is a little hard to find since it is located in a small alley. But its well worth a try as it does have a very long weed menu, good quality hash and a relaxed vibe. While the Kadinsky is actually quite small, there is a seating area upstairs that is usually not very crowded. It is a good place to hang out since it has real character. The staff members speak English as well as a few other languages. They are good conversationalists and provide good advice on their products that include candy kush, brownies and a good selection of hash.
---
Hill Street Blues
This photo of
Coffeeshop Hill Street Blues
is courtesy of TripAdvisor
Address: Warmoesstraat 52 A, 1012 JG Amsterdam
Hill Street Blues Amsterdam Coffee Shop review: Hill Street Blues is located a short way from the Red Light District. It is known for offering a relaxed but funky atmosphere, comfortable lounges and seating area, very cheap coffee and good music. The entire walls as well as the ceiling in the café are covered with graffiti and stickers and it is comfortable and inviting even for those who don't smoke. According to some customer reviews, the staff members are not always very friendly but they do have great milkshakes and banana cake. Great for a Saturday night hangout for those who don't like clubs.
---
Smokey
Address: Rembrandtplein 24, 1017 CV Amsterdam
Smokey Amsterdam Coffee Shop review: Smokey is located in Rembrandtsquare and is a multi-level, large bar that seats more than 150 people. Their menu includes a large selection of hash, weed, rolling paper, pipes and muffins. While some customers reported that the music is a bit dated, Smokey's does have a very good drinks menu that includes tea, coffee, fresh juices, sodas and even marijuana tea. There is a pool table and massage chair inside for those who want to relax and unwind. Prices tend to be steeper compared to many other places and it does tend to get quite busy since its very popular.
---
Grey Area
Address: Oude Leliestraat 2, 1015 AW Amsterdam
Grey Area Amsterdam Coffee Shop review: Operated by Americans for over 15 years, the Grey Area made a name for itself by winning several Cannabis Cup Awards. It is also known for being the original coffee shop serving Double Bubble Gum, Stonehedge, Wobbler and many other weeds. It is also one of the few places offering a good selection of bongs. Grey Area can seem to be a little intimidating for non-smokers or for first timers but the staff is quite friendly and the place is quite intimate. Staff members are always willing to help out guests and suggest products based on their preferences. The place is quite small with limited seating and since it is quite popular it does tend to get crowded.
---
The Dolphins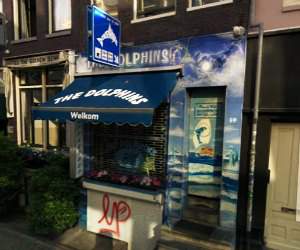 Address: Kerkstraat 39, 1017 GB Amsterdam
The Dolphins Amsterdam Coffee Shop review: The Dolphins is located in the Centrum neighborhood. There are two separate sections available for seating and free WiFi is available in both areas. Downstairs area offers very comfortable lounges and seating areas while upstairs is more intimate with smaller tables. There are several great treats available on the menu including good milkshakes, hot chocolates and of course, strong space muffins. Smoking equipment is available on rent for those interested. The Dolphins coffee shop has an underwater theme with plenty of dolphins that might seem out of place and awkward to some. It claims to be the purest café in town.
---
Abraxas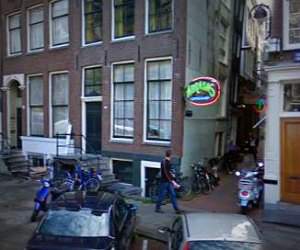 Address: Location 1: Jonge Roelensteeg 12, 1012 PL Amsterdam
Address: Location 2: Spuistraat 51, 1012 ST Amsterdam
Abraxas Amsterdam Coffee Shop review: Abraxas at Spuistraat is the more popular location, it has been around since 1992 and is a three story establishment along with an outdoor seating area. Each floor has a different theme and vibe, with walls covered in graffitti. The other location of Abraxas at Jonge Roelensteeg has a fairy tale theme.
The menu includes a very popular hot chocolate, coffee, baked foods and good quality weed. Hash pipes, rolled joints and bags are available. The atmosphere is quite relaxing and the décor is cozy because of the wooden details. The music played is usually reggae. There's plenty of comfortable seating available. The narrow, spiral staircase for reaching the upper level can be a little hard to negotiate after sampling some of their goodies.
---
Bulldog Palace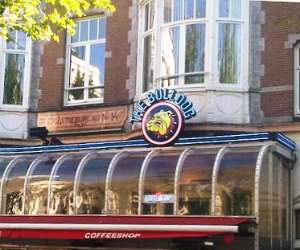 Address: Leidseplein 15, 1017 PS Amsterdam
Bulldog Palace Amsterdam Coffee Shop review: Although the Bulldog Palace is quite mainstream and touristy, it is a good place for first-timers to get a feel of Amsterdam coffee shops. The Bulldog Palace tends to get quite crowded because of its popularity but it is a good place to hang out in the day time. At night the café transforms into a dance club with a lot of crowd. The menu includes several different strains and a variety of good quality edibles. They also have plenty of coffees and drinks to go along. Staff is friendly and quite helpful and there are numerous seats available.
---
Amnesia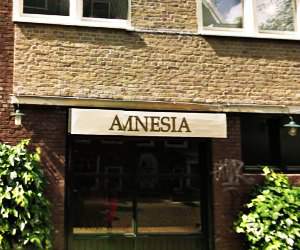 Address: Herengracht 133, 1015 BG
Amnesia Amsterdam Coffee Shop review: Located in the touristy Red Light District in front of a canal, Amnesia attracts a lot of young crowd as well as tourists. Amnesia is quite small but comfortable, cozy and decorated to provide it a very laid back feel. The mellow color scheme tends to work quite nicely with the overall feel of the café. Amnesia offers several smoking tools including volcano bags, pipes and bongs along with a variety of strains. Staff members are always available to suggest different products to guests. Amnesia also has several good edible snacks, coffee, slushies and snack options to choose from.
---
Popeye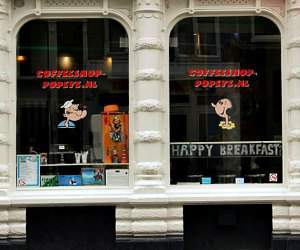 Address: Haarlemmerstraat 63, 1013 EK Amsterdam
Popeye Amsterdam Coffee Shop review: Popeye is located in the heart of Amsterdam. Designed to look and feel open, the café has large windows, good color scheme and plenty of natural light that makes it more inviting than some of the other darker, seedier coffee shops in the city. The music is a mix of different styles to create an overall "chill out", relaxing vibe. The menu features several different strains offered at competitive prices. Internet access is also available. Coffeeshop Popeye also serves breakfast and sandwiches. It is a good place to spend a relaxing afternoon when in Amsterdam.
---
The Rookies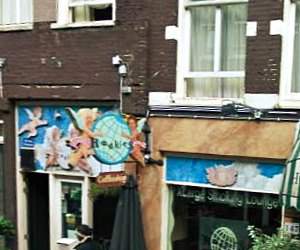 Address: Korte Leidsedwarsstraat 145, 1017 PZ Amsterdam
The Rookies Amsterdam Coffee Shop review: The Rookies has been operating since 1992 and is a place that is still slightly less known to tourists in comparison to the other Amsterdam coffee shops. A lot of locals frequent the Rookies, but not as many tourists. The staff is usually quite friendly and the music played is quite eclectic. The smoking area is designed to be cozy and inviting and can accommodate more than 80 people. Seating includes lounge tables and bar chairs. The menu features lavazza coffee, some eatables and a decent variety of weed. The space inside is quite spacious and the café is usually not very crowded.
---
Baba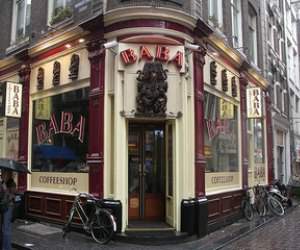 Photo by shadowgate
Address: Warmoesstraat 64, 1012 JH Amsterdam
Baba Amsterdam Coffee Shop review: Baba is located in the Red Light District and is one of the more popular coffee shops in the area. It is designed to be quite comfortable and offers good views. The music they play is mostly vocal and trance, which might not seem appealing to everyone. The café has the tendency to get quite loud and boisterous at times. The menu features a very large selection of products and pre-rolled joints. Most tables also have large vaporizers. However, the prices are on the higher side and pre-rolled joints can get quite expensive. The café also has a decent selection of drinks and "space" items.
Photo credits: Yaroslav Yaroslavov, Raimund Koch