Amsterdam
> Know
What You Need To Know Before You Go To Amsterdam
Amsterdam is a beautiful city to visit, but there are things you should know before you go to Amsterdam.
You can have fun, you can see a lot, do a lot and even learn a lot about the Dutch culture and the history of Amsterdam. But...You can even have MORE fun if you go well prepared and know what to expect.
This page is not written with the intention to scare you away from Amsterdam.
NO, No...
Read on...

If you go visit a city and you don't have much time, preparation is everything to your successful stay. Know what to do, what to expect and where to go is essential in every travel you make. We will help you here understand the basic Dutch habits and the special commodities of the city of Amsterdam. Remember: It's Always good to know before you go... Have more fun, feel more relaxed and understand your city better.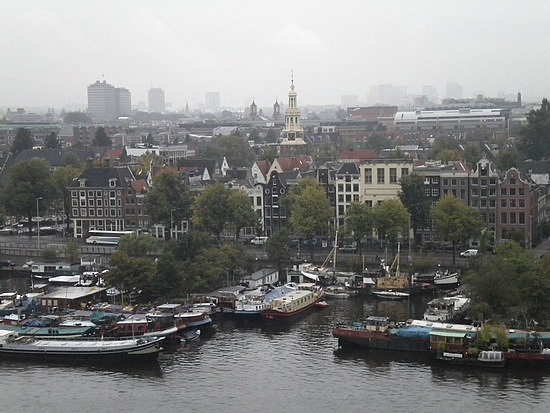 No High Rise Buildings or Skyscrapers
| | |
| --- | --- |
| By far most big cities in the world are overly crowded with high rise buildings and skyscrapers. Some cities are even famous for it, like New York City. Amsterdam is the contrary of it. In the city center you will not find any high rise buildings, but still the historic old canal houses and small streets. The office buildings are outside the center located in office parks and easily reached by train for the employees. | |

Bikes are More Important than Cars
The first eye-catcher in Amsterdam is the amount of bikes everywhere you look. The Central Station has a parking garage of six floors, ONLY for bikes!!! The whole city has safe bike paths, separate lanes and traffic lights for bikes. It is THE way to get from A to B for the local people. Biking is not something you do for sport (although a lot of Dutch people do too), but it is the most practical way to go to school, work, do shopping and get around. Driving a car in Amsterdam city is very difficult, because of the narrow streets, the trams, all the bikes and other kinds of vehicles on the roads. Also parking in Amsterdam is very difficult and expensive, so most local people don't have a car and use the bike or the great public transport system in the city.

Did you know that in the shopping center a lot of streets are closed for traffic and are only for pedestrians?

That's a safe and convenient way of shopping. Even riding your bike is forbidden in those streets and you can get a ticket from the traffic control police.

If you want to feel like a local, rent a bike and blend in with everybody, but....follow the rules, do not stop in the middle of the bike path and be careful for bike thieves. Read more about bike rentals in Amsterdam.


Raw Herring and French Fries with Mayonnaise
The Dutch favorite snack is Raw Herring dipped in raw unions, picked up by its tail and lowered into your mouth. Yummy! They call them Hollandse Nieuwe (new) and they are only available during spring and summer. Try it out, they are really tasty and you can buy them from stands on the street.

The next thing you should try is to go to a cafeteria (a store to buy french fries and ice cream) and order a "patatje met". That means french fries with mayonnaise. The best places give them out in a pointed paper bag with lots of mayonnaise on top. Very yummy, although not so healthy. (Do NOT go to McDonalds or Burger King).

These cafeterias offer different toppings to go over your french fries, like curry, peanut sauce, tomato ketchup, chili and more. Also they offer a great variety of snacks on the side, with the most famous: the Dutch "Kroket" and "Frikandel".

The Kroket is a crispy fried ragout roll covered with bread crumbs and a Frikandel is a kind of skinless hot dog made with minced-meat.


City of Drugs, Prostitution and Rock and Roll
Know before you go...
Yes, Amsterdam is a multicultural city of freedom and liberal thinking. Walk around the old center and you could just stumble upon an area you have never seen before....The legal prostitution of Amsterdam. Streets lined with red illuminated windows where the prostitutes stand, visible for everyone. Shocking, fascinating and weird....Yes, this is called the famous Red Light District. It's an experience that leaves an impression on most people.

Besides the legal prostitution, you will notice a certain amount of sex shops and even a sex museum.

The next thing you can't miss to see in Amsterdam is the amount of Coffee shops. Another thing to know before you go is that it is legal to carry 30 grams of Pot with you and you can buy 5 gram at a time. Although smoking tobacco is forbidden in pubs and bars in Amsterdam, you can smoke pot in the coffee shops, but no tobacco, or only in designated areas.
Who makes those funny rules....
And it is even getting more crazy: Starting Januari 2013 you need to have be a Dutch citizen to be able to buy pot in coffee shops. This is a big bummer for the tourist industry...There is still a heavy discussion going on, so we will keep you updated on this. Enjoy while you can!

Adolescents of 16 years and older are allowed to drink alcohol in the Netherlands, but for driving a car you have to be 18 years old and obtain your drivers license first.

And then the Amsterdam Nightlife continues the whole night, especially during the weekends. The bars are open early, but the night clubs only open after midnight and stay open until 5.00 or 6.00 a.m.

And another thing you may want to know before you go is that it is perfectly normal to show that you are gay and you can openly visit one of the plenty gay bars. The Gay-parade is the biggest event in Amsterdam after Queens-day.


You Can Speak English Everywhere
Dutch children nowadays start to learn English at the age of 6. It is a mandatory class during their whole education. Besides that they get lessons in German and French. And it can be said, the Dutch people are proud to speak so many languages. They will always answer you in English, so don't be afraid to start in English, it will not be seen as impolite.
But they will of course love it if you try to speak a few words!

We hope that you got an impression of things to know before you go to Amsterdam and that we didn't scare you away. We want you to be prepared, have fun and enjoy this beautiful, historical city.

Amsterdam is a pretty safe city, even when you take a bike, visit a coffee shop, walk through the Red Light District in the evenings or take the public transport and more....YES, you CAN do it, but as usual use some common sense with whatever you do.