Things to Do in Amsterdam in June 2023

Welcome to Amsterdam in June! There are so many things to do in Amsterdam in June 2023, making it an excellent destination for a summer vacation. Whether you're looking for the best activities for a vacation or wondering what to do in Amsterdam in summer 2023 on your short weekend getaway, we have you covered. Thanks to its northern location, Amsterdam experiences longer days and shorter nights, providing extra daylight for enjoying outdoor activities such as scenic walks and rooftop dinners. From canal cruises to bike tours, there are various options to explore and discover the city's beauty, including its secret gardens. To avoid typical tourist crowds in the city, you can also venture on a countryside bike tour to experience the Dutch countryside, including windmills, villages, and picturesque landscapes. In addition to natural beauty, Amsterdam offers a diverse range of events and concerts in June 2023, such as highly anticipated shows by Peter Gabriel, Beyoncé, Hans Zimmer, Weeknd, Blur and Kiss, as well as summer festivals. Immerse yourself in the local culture and enjoy the vibrant music scene, art exhibitions, and festivals happening throughout June 2023 in Amsterdam!.
---
Contents: Top 3 Amsterdam Tours :: Rent a Bike! :: Amsterdam Concerts in June :: Best 5 Amsterdam Hostels :: Amsterdam Festivals in June :: Countryside Retreat Tours :: Featured Evening Canal Cruises :: Best Rooftop Restaurants with Amsterdam Views ::  Open Garden Days
---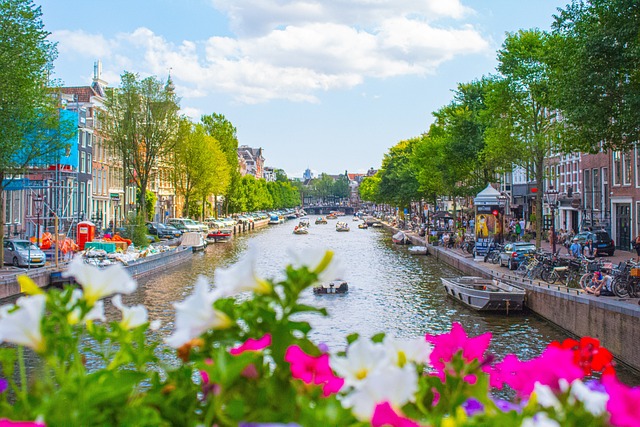 June brings pleasant summer weather to Amsterdam, creating ideal conditions for outdoor exploration. With comfortable temperatures and extended daylight hours, you'll have ample time to immerse yourself in the city's culture and atmosphere. Keep in mind that June is a popular tourist month, so expect larger crowds and potential queues at popular attractions. 
While the weather is generally enjoyable, it's advisable to be prepared. June sees an average rainfall of around 70 mm, so it's a good idea to have a light jacket handy for occasional showers. The average temperatures range from around 17°C (62 Fahrenheit) for highs to 11°C (50-51 Fahrenheit) for lows, providing a comfortable climate during your visit.
Get ready for an exciting adventure in Amsterdam this June! Whether you're exploring the city's iconic landmarks or discovering the countryside's hidden treasures, this month promises an unforgettable experience. Enjoy your journey!
TOP THREE AMSTERDAM TOURS IN june 2023
---
TOP EVENTS AND ATTRACTIONS IN AMSTERDAM IN june 2023
rent a bike in amsterdam!
Have you ever tried renting a bike in Amsterdam for a couple of days? June is the perfect time to do it! It's an efficient and convenient way to navigate the city, thanks to Amsterdam's compact size and extensive bike lane network. By renting a bicycle, you can experience the authentic local lifestyle and immerse yourself in Dutch culture. It offers the freedom and flexibility to explore at your own pace, discovering hidden gems and charming streets that may not be easily accessible by other means. Renting a bicycle is also cost-effective, environmentally friendly, and promotes a healthy and sustainable mode of transportation. From picturesque canals to vibrant neighborhoods, cycling in Amsterdam allows you to access unique attractions and experience the city like a true local. So, hop on a bike and embark on a memorable adventure in Amsterdam!
Read more about biking in Amsterdam
---
BEST AMSTERDAM CONCERTS IN june 2023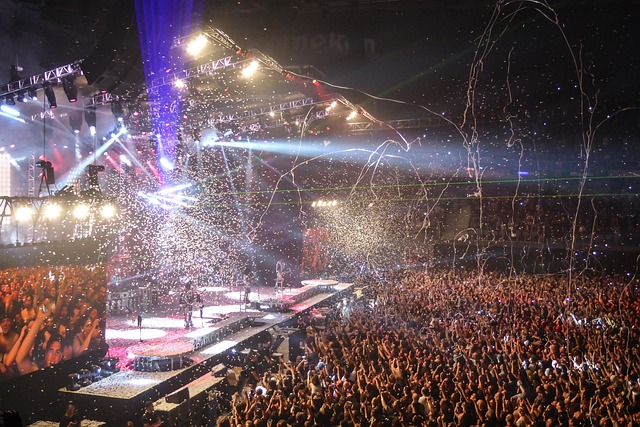 Image by Car Loss Voniya from Pixabay
June 5 - Peter Gabriel

Save the date in June for Peter Gabriel's highly anticipated concert in Amsterdam as part of his 2023 "Still Growing Up" tour. The iconic English musician, known for his time with Genesis and his successful solo career, will bring his legendary talent to the stage, performing hits from his acclaimed album "So" and captivating the audience with his unforgettable live performance - BUY TICKETS
June 10 and 11, 2023 – Hans Zimmer
Don't miss the must-see concert of legendary composer Hans Zimmer in Amsterdam in 2023. Experience the mesmerizing performance of his best hits from well-known movies like The Lion King, Inception, and The Dark Knight during his "World of Hans Zimmer" tour - BUY TICKETS
June 12, 2023 – KISS
One-of-a-kind rock band KISS is set to perform in Amsterdam as part of their "End of the Road" tour in June 2023. This legendary rock band is known for their electrifying performances, amazing hits, and gorgeous costumes and makeup, and this is a great chance to see them live in Amsterdam - BUY TICKETS
June 17 and 18, 2023 - Beyoncé
Amsterdam welcomes Beyoncé's highly anticipated Renaissance World Tour in Amsterdam, featuring her chart-topping hits like "Single Ladies" and "Irreplaceable." With her unmatched vocal abilities and record-breaking accolades, Beyoncé's live performance is a must-see event! - BUY TICKETS
June 23 and 24 - The Weeknd

One of the popular modern artists, The Weeknd is giving their first concert in Amsterdam in June 2023 as part of their "After Hours Till Dawn" world tour. Experience the electrifying performances and chart-topping hits, including "Take My Breath," "Heartless," and "Starboy," by this Canadian singer and songwriter - BUY TICKETS 
June 25 - Maroon 5

Catch Maroon 5 live in Amsterdam in June 2023 as part of their UK + Europe 2023 tour! Known for their chart-topping hits like "Sugar" and "Girls Like You," Maroon 5, led by the charismatic Adam Levine, is a highly successful American pop rock band with over 135 million records sold worldwide. - BUY TICKETS 
June 27 - Blur

Blur, the iconic English rock band known for their contributions to the Britpop genre and hit songs like "Song 2" and "Boys and Girls," is embarking on their first headline performance since 2015 with a short European tour in 2023. Catch this rare opportunity to see them live in Amsterdam in June 2023! - BUY TICKETS 
Check out our full Amsterdam Concert Schedule following this link!
---
Amsterdam hostels - affordable and fun!
clinkNOORD Hostel in Amsterdam
Summer in Amsterdam is a busy tourist-y time, when it's hard to find central yet affordable place to stay during your Amsterdam visit. Would you consider booking a hostel? Actually, there are some advantages in preferring a hostel as a place to stay over a hotel or B&B. Let's take a look at main reasons to book a hostel in Amsterdam.

1. Affordability: One of the primary advantages of booking a hostel in Amsterdam is the affordability factor. Hostels generally offer much lower rates compared to hotels, allowing budget-conscious travelers to save money on accommodation expenses. This leaves more room in your budget for experiencing the city's attractions, dining out, or engaging in other activities.
2. Social Atmosphere: Hostels are known for their vibrant and social atmosphere, making them an excellent choice for solo travelers or those looking to meet fellow explorers. With shared common areas, communal kitchens, and organized social events, hostels provide ample opportunities to connect with other like-minded travelers from around the world. It's a chance to make new friends, exchange travel tips, and create memorable experiences together.
3. Local Experience: Staying at a hostel in Amsterdam provides a more authentic and immersive experience of the city. Many hostels are located in central areas, allowing easy access to local neighborhoods, markets, and hidden gems. Additionally, hostel staff members are often locals themselves, offering valuable insights and recommendations on the best places to visit, eat, and explore beyond the typical tourist attractions. This insider knowledge can enhance your overall experience and help you discover the true essence of Amsterdam.
best 5 amsterdam hostels for your summer visit
Go to the full list of best Amsterdam hostels on our website
---
amsterdam summer festivals in june 2023
Amsterdam is famous for its lively music scene, and in summer 2023, the city hosts numerous exciting music festivals. No matter what kind of music you enjoy, Amsterdam has a festival for you. From electronic beats to urban sounds and experimental music, there is a diverse range of festivals that cater to different tastes. These festivals create a vibrant and joyful atmosphere, making your summer in Amsterdam an unforgettable experience filled with music and celebration. Here are the biggest Amsterdam festivals in June 2023.
The Mystic Garden Festival - June 17, 2023 - Sloterpark, Amsterdam
The Mystic Garden Festival in Amsterdam is an annual open-air event held at Sloterpark. It offers attendees a unique experience where the realms of life, music, and creativity converge for a memorable day. The festival boasts a top lineup of renowned electronic music artists and DJs, including Layton Giordani, Teenage Mutants, Township Rebellion, and Mitch De Klein. The Mystic Garden Festival, taking place in June 2023, provides a cherished opportunity for attendees to immerse themselves in an enchanting atmosphere and discover the magic that lies within.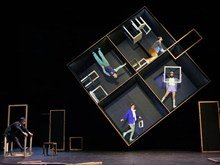 Holland Festival - June 1st till July 1st - around Amsterdam
The Holland Festival, the largest performing arts festival in the country, takes place annually in Amsterdam throughout most of June. With a history dating back to 1947, this internationally renowned event showcases a wide range of performances including theatre, visual arts, classical music, dance, opera, and film. In its 76th edition, taking place in June 2023, the Holland Festival will feature over 200 unique and groundbreaking pieces across various disciplines. Attendees can expect artistic innovation, experimentation, and cross-disciplinary collaborations, as artists from around the world present works that cannot be experienced elsewhere in the Netherlands. 
Amsterdam Open Air Music Festival - June 3 and 4, 2023 - Gaasperpark
Amsterdam Open Air Festival is a vibrant two-day event held in Gaasperpark, showcasing diverse electronic music genres: deep house, dubstep, electro, tech-house, and techno in a stunning natural setting. With multiple stages, immersive art installations, and a lively atmosphere, Amsterdam Open Air creates a captivating environment. Curated by a talented ensemble of cultural standard bearers from Amsterdam, the festival presents incredible DJ lineups across ten stages, covering the entire spectrum of Dutch dance music. Some of the famous acts that have graced the festival include Claptone, Kerri Chandler, Goldbland, De Jeugd van Tegenwoordig, Froukje, Kris Kross Amsterdam, Henrik Schwarz, and Joris Voorn. Amsterdam Open Air Festival promises an electrifying celebration of music in the heart of nature.
---
Around Amsterdam - countryside tours

If you're visiting Amsterdam in the summer, it's worth considering taking a countryside tour to get away from the crowds and enjoy the beautiful Dutch landscape. With the weather being warm and sunny, it's a perfect opportunity to spend some time outside of the city and explore the lush countryside, dotted with charming windmills, picturesque villages, and green fields. Additionally, the longer daylight hours in summer allow for more time to explore and take in the scenery. By avoiding the seasonal crowds in Amsterdam, you can experience a more peaceful and relaxed atmosphere while discovering the Dutch countryside. Furthermore, countryside tours around Amsterdam offer a glimpse into the region's history, culture, and local customs, making it an enriching and rewarding experience.

---
featured evening canal cruises in june 2023

Evening boat tours and canal cruises are among the most popular attractions in Amsterdam in summer. These boat tours offer a perfect way to enjoy the historical surroundings of Amsterdam while relaxing on the water. As you cruise along Amsterdam canals, you'll be mesmerized by the beauty of the numerous bridges and the bright red lights reflected in the water. Many of these evening tours offer luxurious dinners, making it a perfect choice for a romantic getaway, especially in June. Whether you're looking to unwind after a summer day of exploring the city or just want to take in the stunning views of Amsterdam at night, an evening boat tour or canal cruise is a must-do activity for any visitor to the city in June 2023.
---
Best Rooftop Restaurants with Amsterdam Views
June is the perfect time to experience best Amsterdam's rooftop restaurants and bars. With the good weather and late sunsets, you can soak up the stunning views while enjoying delicious food and drinks. Here are our top 5 picks for the best rooftop dining in Amsterdam: