Amsterdam

>
Nightlife
> Red Light District
Amsterdam Red Light District
The Amsterdam Red Light District is a very special area in the very heart of the city - the best known and the most popular attraction of Amsterdam. The local name for Amsterdam Red Light District is "the Wallen". It stretches out into several blocks, it is crossed by canals and alleys, and this is the place where the oldest profession is practiced daily and legally. There are more than 300 red windows, most of them romantically lit with lights, and in each window you can see an intimate sighting of a professional, presenting themselves to the tourists and locals.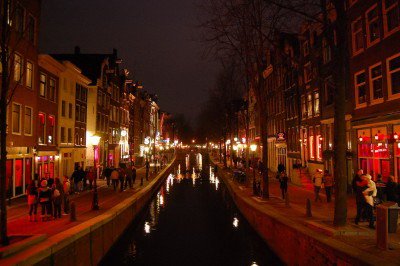 Walking the streets of the Red Light District in Amsterdam is a very special experience. The narrow city streets are crowded with people, gawking at the ladies in the windows. All these red lights and the amount of windows, all these ladies and men walking in and out. You don't know how or what to feel; embarrassed, impressed, uncomfortable or free. Whatever you feel , you will never forget this attraction.
 Red Light District Tours



While it's safe enough to walk around the area alone, Amsterdam Red Light District tours offer  time with a group of like-minded tourists and a professional tour guide who knows all the best, naughtiest places! There are many great tours of the area, here are just some of them.

When to visit the Red Light District?

The best time to visit the Amsterdam Red Light District is in the early evening when you can see the romantic red lights and it is not too crowded yet. You are not allowed to take photos of the sex workers in the windows, so best thing to do is to put away your camera for safety reasons and just enjoy these eye candies!

| | |
| --- | --- |
| | Prostitution is legal in the Netherlands and the performers in the windows are registered in the city and pay taxes. It is also a relatively save area and all the sex workers do have a safety button to call the police in case of a situation. |
The Netherlands hold an open and practical minded spirit towards soft-drugs and sex. They try to regulate, rather than forbid the sale and trade. These laws are not very popular with adjacent countries and they fight about it, because it supports trade at the border.
Also in Amsterdam itself there are more and more actions from law enforcers to close a big part of these windows, because of problems with human trafficking.
Book a hotel in red light district area
The Red Light District in Amsterdam is a well-known tourist destination, attracting visitors from around the world. It is home to a variety of hotels that cater to different budgets and needs, ranging from budget-friendly hostels to luxury hotels. Many of these hotels are located in historic buildings and offer unique experiences for guests, such as viewing the Red Light District from a canal-side room. Some hotels also have on-site bars and restaurants, making it convenient for guests to experience the nightlife of the area. However, it is important to note that due to the nature of the Red Light District, some hotels may have a seedier reputation, so it is advisable to research and choose carefully before making a booking.
OTHER ATTRACTIONS IN RED LIGHT DISTRICT
Red Light District is all about adult entertainment and adult fun in Amsterdam. Here are some other things that you can see and do in this popular tourist area:
Several erotic clubs:
The best known night clubs are Casa Rosso (Oudezijds Achterburgwal 106-108) and the Bananenbar (Oudezijds Achterburgwal 37).


Some famous museums:
The Erotisch Museum (Oudezijds Achterburgwal 54) and the Hash, Marihuana & Hemp Museum (Oudezijds Achterburgwal 148)- for the people who wants to know more about the sex industry and improve their knowledge of drugs.


There are plenty of "coffee shops" where you can legally smoke and buy small amounts of weed. However, coffee shops are not allowed to sell alcohol and in most of them you can't smoke tobacco. Two most famous coffee shops in the Amsterdam Red Light District are: Greenhouse (Oudezijds Voorburgwal 191) and Homegrown Fantasy (Oudezijds Voorburgwal 87a).


And you don't have to look far to find "sex shops" with the most amazing dildos and other adventurous sex toys for your pleasure!


Also, don't be surprised to see several red windows decorated with fashion dolls. The City of Amsterdam is trying to make the Red Light District smaller and better controllable by reducing the numbers of prostitution windows and they started selling these windows to designers who like the amount of attention it gets from all the people passing by.