Amsterdam

>
Nightlife
> Clubs
Amsterdam Clubs And Bars - Nightlife Hotspots
Amsterdam boasts the most incredible nightlife. You can find any kind of music in countless Amsterdam clubs and bars. Below are reviews of some of the hottest nightlife spots of the city, enjoy!
Featured
Here are the most popular must-see nightclubs in Amsterdam:
Bourbon Street
Address: Leidsekruisstraat 6-8 | Grachtengordel: East, Amsterdam 1017RH
Music:
Review: Bourbon Street is a live music Amsterdam club that offers intimate setting, good acoustics and even better music. Each night the club provides live music and performers including blues, soul and jazz. Bourbon Street may be quite a small place but it has a lot of unique, original character. Over the years a number of world renowned artists have visited the club including BB King, Herman Brood, Rolling Stones, Bobby Kimball, Jeff Healey, Joss Stone, Bruce Springsteen and Sting. While it does tend to get crowded and seating is limited, Bourbon Street is safe, a lot of fun and quite inexpensive.
---
ABE Club & Lounge
Address: Amstelstraat 30, Amsterdam 1017 DA
Review: ABE Club and Lounge is located on Amstelstraat in the heart of Amsterdam in a historic bank building. It offers a sophisticated, stylish atmosphere for guests to socialize, dance and enjoy music. One of the hottest Amsterdam clubs, ABE Club and Lounge is inspired by the dynamic nightlife of Las Vegas, Paris and NYC. It has a lineup of interesting performances and entertainment each night and offers fun, high energy music for guests to enjoy. It offers VIP tables, a large bar area with professional staff members and a lounge area where guests can meet and socialize in a fun but safe environment.
---
Alto Jazz Cafe
Address: Korte Leidsedwarsstraat 115 | Grachtengordel: East, Amsterdam
Review: Alto Jazz CafÊ is cozy, intimate, small and a great Amsterdam club for jazz music. For music fans, this cafÊ is definitely a great spot to be because there's good live music every night featuring some of the best musicians in the country. Hans Dulfer performs regularly at the Alto Jazz CafÊ. It is an easygoing, laid back spot with a good bar, dancing space and good drinks. It attracts a good mix of crowd and good entertainment. Alto Jazz CafÊ offers a very relaxed atmosphere to spend time with friends, meet people from around the world and listen to great music.
---
Mulligans Irish Music Bar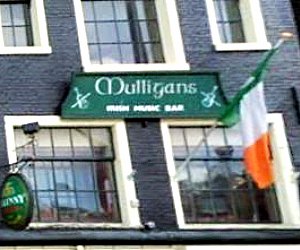 Address: Amstel 100, Amsterdam 1017
Review: Coolest Amsterdam clubs inlude Mulligans Irish Music Bar - a traditional Irish bar located right on the beautiful Amstel River, only a few minutes from the famous Dam Square. With efficient, friendly staff, traditional dÊcor, great music and an impressive selection of beer, it definitely attracts a lot of tourists as well as regulars. Mulligans is also reputed for pouring out high quality Guinness pints at very low prices compared to other bars in the area. The bar itself is small and cozy but it does have a small stage for dancing. There's live music most nights and Irish dance performances on a regular basis.
---
Bimhuis
Address: Piet Heinkade 3 | 1019 BR, Amsterdam
website
Review: Amsterdam club Bimhuis is housed in a modern building in a central location near Amsterdam's Central Station. With world class live performances throughout the year, an excellent restaurant downstairs and cozy setting, Bimhuis is definitely one of the best places in the city to enjoy live music. The view from Bimhuis is impressive with spectacular view of the harbor, passing trams and trains. It hosts more than 300 international and Dutch music concerts each year. Most people visit this venue for jazz but it does offer a good selection of mainstream music. It regularly hosts world renowned musicians and offers a comfortable venue for enjoying the music.
---
The Waterhole
Address: Korte Leidsedwarsstraat 49, Amsterdam 1017 PW
Review: Amsterdam club Waterhole is located in the heart of Amsterdam in the Red Light District and is a good spot for a fun night out. It offers live music every night of the week, happy hours, pool, friendly staff and a good selection of beer and cocktails. The Waterhole attracts a diverse audience with a mix of tourists and local residents. It has a very laid back, relaxed atmosphere that allows you to listen to good music, enjoy a few drinks and play pool with friends. There is a dance floor inside and the venue hosts a variety of rock bands.
---
Roest
Address: Jacob Bontiusplaats, Amsterdam 1018 PL
Review: Roest is a very unique, hip little Amsterdam clubs that attracts an interesting mix of crowd. It is a club, bar and restaurant, all rolled into one. If you love good music, the Roest offers different music each night. It is open until 4 in the morning and has a very easy going vibe, relaxed ambiance and a good music that you can dance to. Roest is located on the eastern edge of Amsterdam's city center. While it is a little out of the way, it does have a beach out front with picnic tables, a good bar and a restaurant/buffet with very friendly staff.
---
CC Muziekcafe
Address: Rustenburgerstraat 384, Amsterdam 1072 HG
Review: The Muziekcafe is a fairly new pub and music venue in Amsterdam. It offers live music 7 nights a week and a lot of variety to attract a diverse group of people. This Amsterdam club has a warm, friendly atmosphere that puts people at ease. On the weekends, the music pub hosts bands from different genres including World, Soul, Jazz, Blues, Indie, Reggae, Pop and Rock. On weekdays it has jazz nights, jamming nights, an open mic night and live karaoke. The Muziekcafe hosts artists and performers from around the world and offers plenty of entertainment to keep you busy every night of the week.
---
Bitterzoet
Address: Spuistraat 2, Amsterdam 1012 TS
Review: Bitterzoet is an Amsterdam club located in the center of the city and is a great place for those who love intimate live performances. The music venue itself is quite small and has a very quirky, eclectic dÊcor. It has different levels to make viewing easier. The staff at Bitterzoet is friendly and accommodating and the atmosphere is quite relaxed and intimate. There is also a large seating area with comfortable sofas. If you love dancing, there is quite a large dance floor and a balcony if you want some fresh air. The venue features artists from around the world and offers a cozy atmosphere.
---
North Sea Jazz Club
Address: Pazzanistraat 1, Amsterdam 1014 DB
Review: The North Sea Jazz Club is a great place to get acquainted with new artists and enjoy live music and jam sessions in a relaxed, intimate atmosphere. The restaurant on the venue offers a diverse menu where you can enjoy dinner before the performance or even during the show. The jazz club has a resident band and hosts jazz musicians from around the world. On weekends, there is a free live night and a jam session that can be quite fun. Although it is an Amsterdam jazz club, it is also a great spot to visit if you love world, soul, blues and funk music.
---
Sugarfactory
Address: Lijnbaansgracht 238, Amsterdam 1017 PH
Review: The Sugar Factory is a hip, dynamic Amsterdam club where you can enjoy theater, art, live music and dancing. It is a popular spot for live music and a venue for enjoying large gigs as well as intimate, smaller performances. It regularly hosts world renowned DJs like Black Coffee, Frankie Knuckles and Andre Crom and has two separate venues. There is a smaller hall for intimate performances and a larger, main venue that hosts larger concerts as well as theater performances. Other than live music, it also hosts comedians and theater performances. The Sugar Factory also hosts new talent and bands.
---
Escape
website
Address: 11 Rembrandtplein, Amsterdam
Review: Escape is the largest club in Amsterdam and tends to be crowded on most weekends. There are multiple spaces within the club offering different experiences. The main hall is where most of the performances are held. There is also a smaller, intimate space on the first floor, a separate space for TV programs and dance events. Escape cafÊ is a new addition offering dinner and drinks. On weekends, the entrance to the smaller club is free. With its LED ceiling and beautiful view, it does offer a good experience. This Amsterdam club has different themes and club nights each day, Thursday through Sunday.
---
Club Air
This photo of Club Air is courtesy of TripAdvisor
Address: Amstelstraat 16, Amsterdam 1017 DA
Review: Club Air offers an international feel and look in Amsterdam. With its colorful and fun dÊcor, this club is a great spot to meet friends, dance and spend a fun weekend night. Although the venue itself is quite large, capable of accommodating 1300 people, it still feels warm, welcoming and intimate. There are three different areas within the club. Guests are provided with a locker where they can store their belongings if they want to dance. The bar offers a good selection of drinks to choose from. Amsterdam Club Air has a diverse selection of electronic programs each month and a good dancing atmosphere.