Amsterdam
> Cheap Hotels
Top 10 Cheap Amsterdam Hotels
Looking for a cheap Amsterdam hotel to book? Below you will find a list of the cheapest and nicest hotels in the city. Keep in mind that the room sizes are generally small in Amsterdam. It's a packed and crowded city and most buildings are old and small. To make up for the small rooms, they often offer a nice view on one of the canals, great guest service and comfort.


easyHotel Amsterdam
Address: Van Ostadestraat 97, 1072 ST Amsterdam, Neighborhood: City Center
easyHotel Amsterdam review:
easyHotel Amsterdam is a family hotel that is simple, affordable and clean. Prices at this non-smoking cheap Amsterdam hotel start at €49 for a double room. The rooms are designed to offer basic comfort and while they are smaller in size, they do offer a comfortable bed and basic amenities. Kids under 12 years of age stay in the hotel free of cost. Guests have to pay extra for TV, internet, movies and for extra linen, towels and pillows. The hotel also offers easy accessibility to the center of the city through the tram. The staff members are polite, helpful and friendly. easyHotel Amsterdam has four types of rooms: small rooms, standard rooms, special needs rooms and twin rooms. There are a total of 80 rooms in easyHotel.
---
Tulip Inn Amsterdam Riverside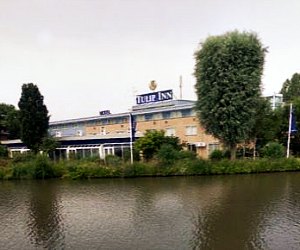 Address: Provincialeweg 38, 1108 AB Amsterdam
Tulip Inn Riverside hotel Amsterdam review: Tulip Inn Amsterdam Riverside is located on the banks of the Gaasp River close to the city's business center. The center of the city is a little far from the hotel since it takes close to 30 minutes to reach there by metro. The hotel is located 15 minutes walking distance from the closest train station. Tulip Inn has spacious, clean rooms with good sized bathrooms. All rooms include flat screen TVs, a spacious bathroom, working area, air conditioning and free movies. It is a pet friendly hotel. Conference facilities and an on-site restaurant are also available.
---
Quentin Arrive Hotel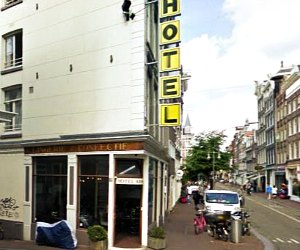 Address: Haarlemmerstraat 65, Amsterdam 1013 EL
Quentin hotel Amsterdam review: The Quentin Arrive Hotel is located not too far from the Central Station, close to many of the city's attractions. It is an inexpensive, family cheap hotel in Amsterdam offering basic amenities and clean but simple rooms. The staff is friendly and helpful. The hotel is housed in a 19th century building and has no elevators. Those with a room on the third or the fourth floor may find it a little difficult to climb the stairs. Many of the rooms do not come with an en-suite so guests have to use a shared bathroom. However, en-suite rooms are also available for a little extra. I've seen promotional prices starting as low as €39 at this cheap Amsterdam hotel.
---
ITC Hotel
Address: Princegracht 1051, Amsterdam 1017 JE
ITC hotel Amsterdam review: The ITC Hotel is a family hotel located close to the Red Light District and central Amsterdam next to a tramline. The best price I found for this cheap Amsterdam hotel was € 42,75. There are 22 rooms, and they are clean but quite small and the staff is quite helpful and accommodating. Housed in a traditional Canal House, all rooms in the hotel have a different vibe and design. Some of the rooms offer a beautiful view of the canal and include facilities like an en-suite, televisions, cable, free safes and free movies. Shared bathroom facilities are available for rooms that do not include a private shower. The hotel has a small bar and a breakfast buffet as well as free internet facilities.
---
Amsterdam DownTown Hotel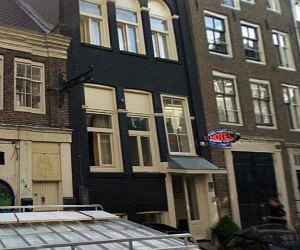 Address: Kerkstraat 25, Amsterdam 1017 GA
Amsterdam Downtown Hotel review: As you an see from its name, this hotel is located in central Amsterdam, close to the tram line and to most attractions in the city. Amsterdam Downtown Hotel features 24 hour reception, a breakfast buffet and friendly staff members. The rooms are tidy and usually clean but very basic. Most rooms include an en-suite, a small television with cable. The hotel is suitable for younger tourists traveling on a budget. The hotel does tend to get a little noisy at times. Guests can access free Wi-Fi in the hotel. However, breakfast is not included in the price of the room. Overall, the Amsterdam DownTown Hotel is a good option for those looking for an affordable, basic, central hotel in the center of Amsterdam.
---
Hotel Hortus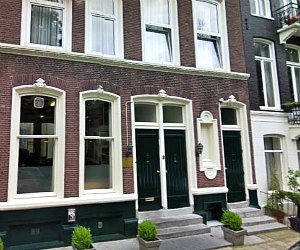 Address: Plantage Parkln. 8, Amsterdam 1018 SR
Hotel Hortus Amsterdam review: This is a budget hotel located close to the Artis Zoo and near transportation links to the city center and Central Station. There are 33 rooms, they are clean and basic and include bed linen, satellite TV, free WiFi, free coffee and tea, safe and free breakfast. Most rooms do not include a shower. Showers are located in the hall and shared by the guests. Since there is no curfew and because the showers are located in the hall, it does get a little noisy at nights. However, the staff is very friendly and eager to help and the rooms are quite well-maintained.
---
West Side Inn Hotel
Address: Voorburgstraat 250, Amsterdam 1059 VD
West Side Inn Hotel Amsterdam review: West Side Inn Hotel is a reasonably clean, large value hotel. Located in southwestern Amsterdam near the A10 highway, it is not quite close to the city center. However, the tram is located close to the hotel. There are 232 rooms, they include a private bathroom with a shower. Other amenities in the room include an LCD TV, direct line telephone and free WiFi. The hotel also has a breakfast buffet serving international breakfast. There's a food corner, a pool table and a small bar inside the hotel. Hostel rooms with private bathrooms and showers are also available for those on a tight budget.
---
Quentin England Hotel
Address: Roemer Visscherstraat 30, Amsterdam 1054 EZ
Quentin England Hotel Amsterdam review: The Quentin England is a cheap Amsterdam hotel located at Vondelpark, close to all the attractions in the city center. The property includes amenities like free WiFi, a private garden and a continental breakfast buffet. The rooms are simple, very basic and quite small. Private bathrooms with showers, flat screen TV and telephone included. Since there is no lift in the hotel, those living on the top floor may find it a little difficult to navigate the steep stairs with luggage. Budget rooms are also available, though they can be quite small. The hallways also tend to get quite noisy at nights.
---
Sipermann Hotel
Address: Roemer Visscherstraat 35, Amsterdam 1054 EW
Siperman Hotel Amsterdam review: The Sipermann is a cheap Amsterdam hotel in a central location overlooking Vondelpark. It is a non-smoking, family-run property suitable for young couples and those travelling with friends. There are only 13 rooms in the hotel. They are functional but quite small. Fresh linens and towels are provided everyday and the rooms are cleaned and well-maintained. The rooms include free WiFi and an LCD TV with channels. There is a cafeteria on site. The hotel does charge a refundable deposit of 20 Euros for room key. 7% surcharge is applicable if you pay using a card. Extra 10 Euros are charged for checking-in late and for late check-outs.
---
Sarphati Hotel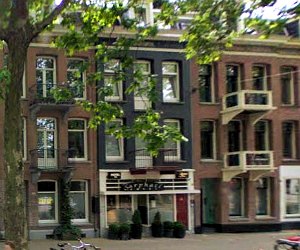 Address: Sarphatipark 58, Amsterdam 1073
Sarphati hotel Amsterdam review: The Sarphati Hotel is a backpacker hostel located close to a beautiful park and the canals. Tram station is located not too far away for accessing central Amsterdam. All the amenities are shared with bunk beds in dorms, shared showers and bathroom facilities. The hostel also provides free breakfast, free linen, use of the kitchen and free WiFi. The staff is quite helpful and accommodating. The rooms are very basic but are kept clean and are maintained well. Towels are not offered so guests are required to bring their own towel and soap or hire towels from the hostel for extra. The hotel has a mixture of suites and multi-person dorms.