Top Things To Do In Amsterdam in 2023
Things to do in Amsterdam in 2023 include: rich night life,  multiple live music concerts, joyful music festivals, and incredible architecture are what makes the city so unique. Amsterdam is not only about smoking pot and coffee shops - the city has multiple museums and art galleries for every kind of visitor. There are many different tours in Amsterdam: biking tours, guided walk tours, bus tours in and around Amsterdam, canal cruises and day trips to see the rest of Holland. Even just looking around, walking or biking your way through the center of the city is a unique experience.  Your visit to Amsterdam will be a special one and we want YOU to have the best time ever! Amsterdam is a very beautiful, exciting city to visit. Lots of things to see and do and a rich culture and history awaits you.
your amsterdam-2-go calendar

Plan Your Vacation in amsterdam

AMSTERDAM PUBLIC TRANSPORT MAP

Need to find your way around Amsterdam? Want to know how to get from one musuem to another? Take this  Amsterdam public transport map so you can check which tram line you need to take in which direction. For your convenience we made a printable map with all the metro/tram and bus routes on it! 
Get a Large Amsterdam Public Transport Map (PDF)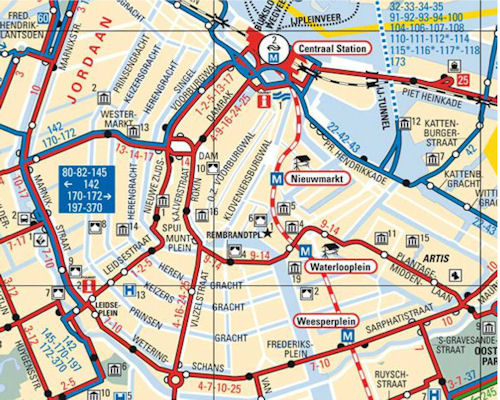 ---
Things To Do in Amsterdam At Night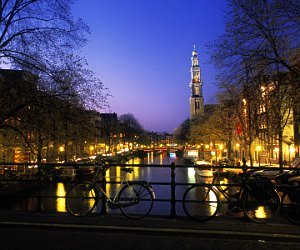 Plenty of nightclubs can be found in almost all neighborhoods of Amsterdam. Amsterdam nightlife is especially busy on the weekend, from Thursday till Sunday night. The clubs open around midnight and close between 4 and 5 a.m. In summer there are more parties to go to and also during the weeknights there is a better choice of night venues than off-season. The most popular and best known dance clubs are Panama and Paradiso. Clubs like Exit and Vive-la-vie specialize on hosting LGBTQ guests, however gay couples are welcome everywhere! Since the clubs open so late, most people start their night in a bar or coffee-shop, and head to the dance floors later in the night.
More About Amsterdam Nightlife

---
Guided Tours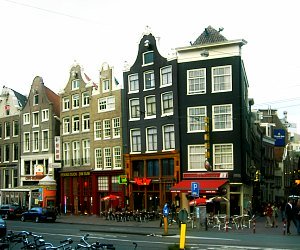 In Amsterdam  there are hundreds of organized tours for every taste and demand. You can take organized bike tours, boat tours, bus tours and guided walk tours. It's an easy and carefree way to see the highlights of the city and it's among the most kids friendly things to do in Amsterdam in 2020. If you prefer solo travel or exploring Amsterdam on your own instead of organized group tours, just rent a bike, a pedal boat, or walk your way through the city. Public transport is also very convenient and efficient for getting around Amsterdam - see more tips on transport on our website!
More About Amsterdam Guided Tours

---
Red Light District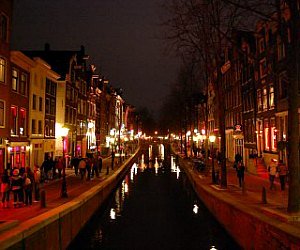 The famous Red Light District in Amsterdam is something you must see! It is impressive, unbelievable and it may make you feel uncomfortable, amazed and everything else at the same time. The Red Light district is a cluster of long street right in the old center of Amsterdam. It has a lot of visitors at night and is the best known "attraction" of Amsterdam. Considered one of Amsterdam signature landmarks, Red Light District is something you will never forget!
More About The Red Light District

---
Amsterdam Canal Cruises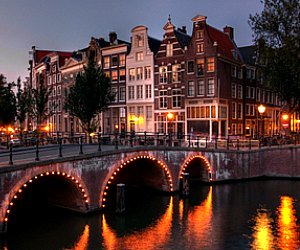 The Canals are a located on Amstel river, they are another signature feature of Amsterdam and gave the city the nickname: "Venice of the North". The canals are more than 60 miles long and cover more than 25 percent of city surface, making Amsterdam the most "hydrated" city in the world. Amsterdam canals give the city a charming and romantic view with all the small streets and bridges lining the canals and looking at their own reflections in water. In the evening the canals are especially beautiful with all the buildings and some of the bridges illuminated. Amsterdam Canal Cruises are among the most popular tourist attractions of the city. You can take organized boat tours, group tours or private tours, or rent a boat yourself, or even rent pedal boats to pedal through the canals.
---
Top Museums in amsterdam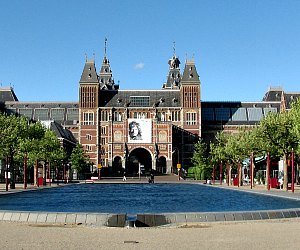 Did you know that Amsterdam is the city that had the most number of museums in the world? It's the most desired destination for every museum goer! You can spend days just visiting museums in Amsterdam without seeing any other attractions (except beautiful architecture, canals, and all the rest). The best known museums in Amsterdam are: Rijksmuseum, Stedelijk museum, Van Gogh museum, Anne Frank house, Historical museum, Nemo, Tropical Museum, Sex Museums, Tulip Museum - the list can go forever.
In Amsterdam you can also find typical Dutch museums like the Houseboat Museum, Canal House Museum, Heineken Experience, Ajax Museum and several smaller museums that are specific to Holland.
---
 Dam Square - the beating heart of amsterdam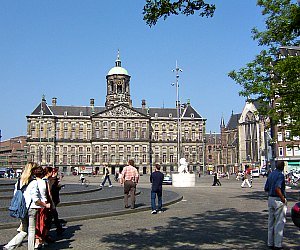 The Dam Square is often called the Heart of Amsterdam, and if you stay there for your visit, you will realize why. All the main Amsterdam attractions are around Dam Square. In the center of it you will find the National Monument, dedicated WWII, and on the side you will find the Royal Palace. Also on the Dam Square there are the Nieuwe Kerk (New Church) and Madame Tussaud's Scenerama. The Dam Square is mostly a meeting place and a place to enjoy the scenery of Amsterdam. Sit at the base of the monument for a while, and you will see busy Amsterdam streets with bikers, trams, scooters and pedestrians moving in every direction and creating the living beating pulse of the city.
Booking.com
 Leidseplein - fun all around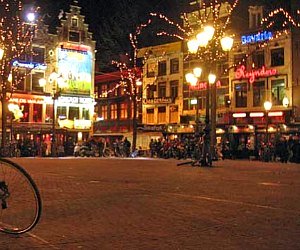 The Leidseplein is well known for its active nightlife, its night clubs, pubs and terraces. On beautiful and warm summer days Leidseplein is crowded with people enjoying a drink on one of the several terraces. This is also a busy place to be on the evenings, especially in the weekends. The Leidseplein is a typical representative of a Dutch city center, where all pubs are close together and people come to have a drink and a good time together.
---
Biking in amsterdam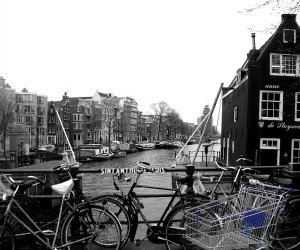 The first impression of Amsterdam for most tourists is the amount of bikes everywhere you look! Did you know the Central Station has a whole indoor parking garage of six floors ONLY for bikes? Stop and take a moment to look at all the different kind of bikes you can see on the roads. It's a pleasure to watch!
There is no better way to explore Amsterdam than walking the streets or (if you dare) take a bike and ride the bike paths. Biking is one of the best things to do in Amsterdam in 2020! There is an advanced network of bike paths through the city, but take into account the number of bikes - Amsterdam bike paths are generally crowded with other bikes and scooters. So don't stop in the middle of it to look at the buildings or ask the way, and make sure to read our tips on Biking in Amsterdam before you dare to do it yourself! 

More About Biking in Amsterdam

---
best Art Galleries to visit in amsterdam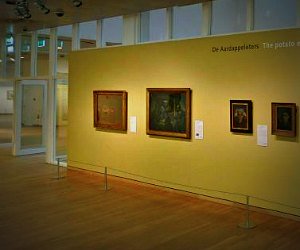 Art has always been an important part of Amsterdam and Dutch culture. A lot of well-known artists have been living here: Rembrandt, Van Gogh and Vermeer are the best known of them. Also nowadays, Amsterdam hosts a lot of young aspiring artists, and art galleries can be found in a lot of neighborhoods. The best areas to look for art galleries or mini museums are the Jordaan and the Spiegelkwartier.
---
Shopping in amsterdam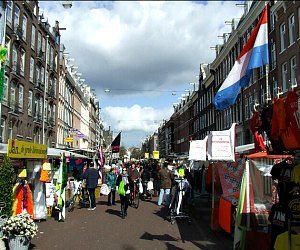 Shopping in Amsterdam is not cheap, however it is one of the favorite activities in Amsterdam for tourists. You can find everything you want to buy at Amsterdam's unique boutiques, galleries, markets and general stores.
Antiques, Fashion and souvenirs can be found in many neighborhoods around the city center of Amsterdam. The best places to go are the Jordaan, Leidsestraat, Kalverstraat and the area between the Prinsengracht and the Herengracht.
---
amsterdam is a Unique City!
The main eye catchers of Amsterdam are the bridges over the canals, the narrow streets with the sophisticated buildings, the streetcars, the variety of people and languages spoken and the absence of most cities famous skyscrapers. Just to be there and walk or bike your way around is a fun and unique experience.

Have a stroll through the parks and have a drink at one of the several plazas filled with tables and chairs to enjoy the outdoors and watch the street life. Visit one of the famous museums or try less known museums and be surprised. There is a great variety of museums from sex and drugs to bags and purses and even a Tulip museum. They are all fun to visit and very often they are located in typical Dutch buildings on the narrow canals.
Amsterdam 2 Go will show you tours around the city, give you travel ideas depending on your interests, advice on things to see in Amsterdam, travel tips and ideas to make your visit unforgettable

With our help you'll sure have fun and learn about the most unique things to do in Amsterdam in 2023!